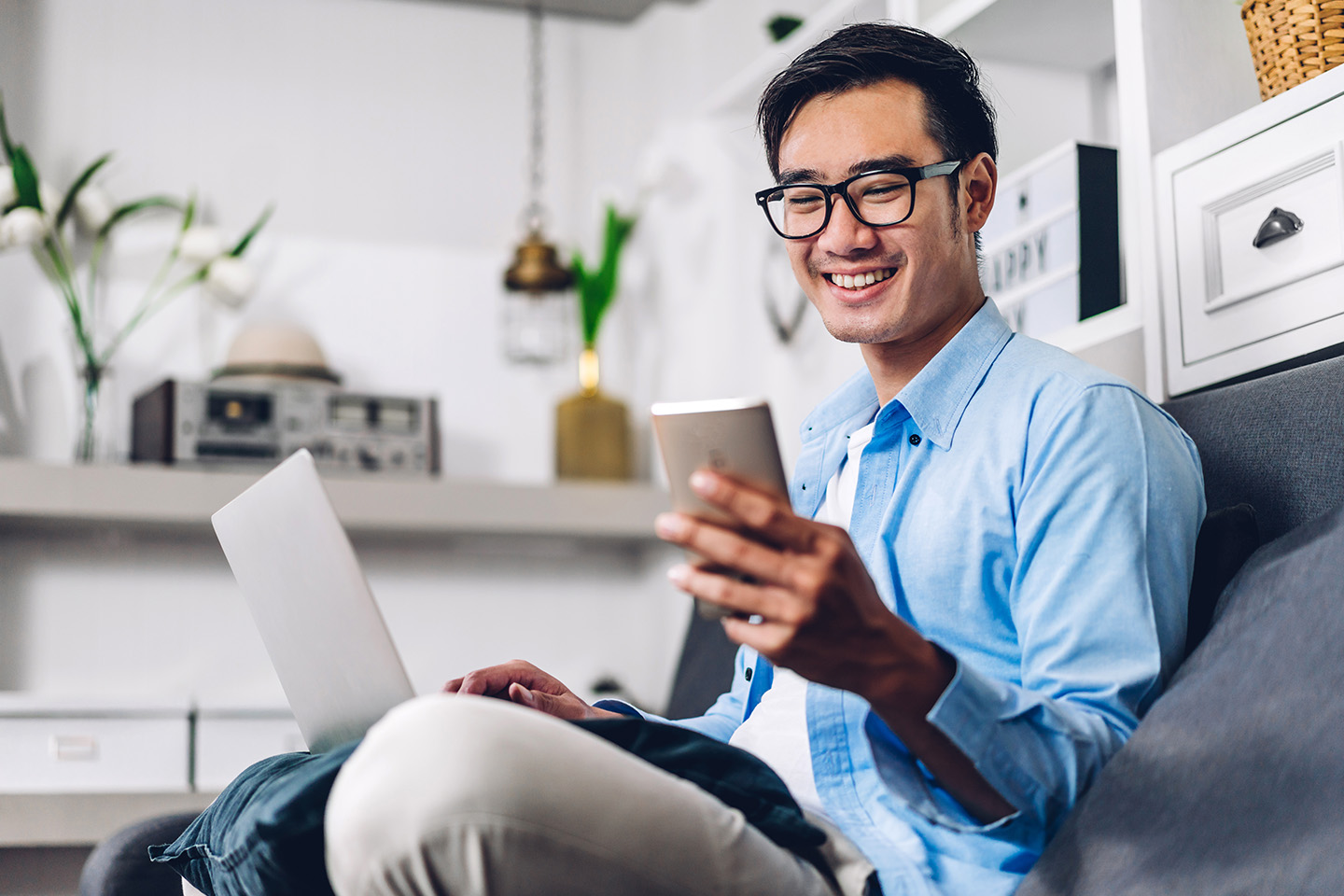 View, save and grow your finances with budgeting apps
The key to financial success could be in the palm of your hand
Lucia McCabe March 2021
Managing money isn't easy, but the key to success could be through the one device you can't live without – your mobile phone.
Over the past few years, we have seen huge growth in personal finance apps, budgeting tools and investment platforms that offer a simplified and on-the-go way to view your finances, track your spending, save or invest.
No matter what you want to do with your money, we have compiled some great personal finance apps suitable for any financial journey.
Budgeting basics
Long gone are the days when you had to sit down with a pen and paper and write out incoming bills and outgoing expenses. A long and laborious task that didn't offer much inspiration.
Now, thanks to budgeting apps, you can effectively manage your money digitally and, most importantly, get a real time view of your financial position without having to manually input and sort through everything.
If you are at the beginning of your financial journey and want to make small steps towards success, consider PocketBook or Frollo as the first apps to help you reach your goals.
Pocketbook is like a personal assistant for your money. By categorising your transactions into essentials, groceries, transport and more you can get a full breakdown of your spending habits to help you make smarter daily decisions with your money. You can also create a budget, so you reach your financial target faster.
Frollo can help you better manage your money day-to-day by giving you a top line view of your finances in real time. Whether you want to track your spending or examine your upcoming expenses, Frollo can help you stay in control.
One feature that sets this app apart is the Frollo Score, which gives you a regular and personalised check-up on your financial wellbeing and money habits in the form of a simple number that you can track over time.
Savvy saving
If you are already on the road to success and are regularly managing your money and sticking to your budget each month, you can take the next step towards bigger financial commitments, such as saving for a dream holiday. Having an end goal to aim for can sustain your focus and keep you on track.
Finder's app allows you to effortlessly manage your money by showing all your bank accounts, investments, superannuation funds and credit cards all in the one place, as well as view your credit score each month.
Finder's price comparison feature from its website is taken one step further by monitoring your spending and notifying you if a better deal exists. For example, based on the amount you spend for energy, broadband, health insurance and more, it will send you deals from other providers that could save you cash each month.
Growing your wealth
For Aussies who are just beginning to grow their investment portfolio, there are a number of sites and apps that can kick start your journey.
Raiz Invest is a micro investing app perfect for first time investors who want to build their wealth through a diversified portfolio of Exchange Traded Funds. You can start small, from as little as $5, and then manage your account as you would like through daily contributions, recurring investments or lump sum deposits.
You can also round up the spare change from daily purchases for a 'set-and-forget' approach that will increase your investment over time.
As an accomplished investor, it can be difficult to keep track of all your investments, make sure your strategies are going to plan and work out where your next move is going to be.
ShareSight is a tracking and reporting tool developed for anyone who owns investments and wants to understand how they are performing. App users simply import their trading history to receive automatic updates or performance reports.
What is a personal finance app?
Designed to help you at all stages of your financial journey, personal finance apps are the easily accessible, on-the-go way to track your spending, create savings goals and grow your income. From basic features to upgraded tools and calculators, there are many apps available for you to choose from.
How much does a personal finance app cost?
The cost of personal finance apps will depend on the level of services and tools included. Many are free of charge with options to upgrade to basic, premium or expert plans. Monthly fees can vary from $10 to $20, with discounts if you pay yearly. Don't forget, some apps or online sites will have in-app charges, so it's important to always read the terms and conditions before signing up.
How do I choose one that's right for me?
Consider what you will be using the app for and how often you will be using it. You might find you only need basic access to give you an overview of your spending, or alternatively recognise you need more assistance and guidance and opt for a paid app.
No matter what stage of your financial journey you are at, finding the right budgeting app will provide you with control and structure to your finances.
The opinions expressed in this article are the opinions of the author(s) and not necessarily those of Resimac.
Back to top