Shred and save
Leah Callaghan, April 2020
Make the most of all this 'home time' by getting fit and saving money!
Most gyms, studios and outdoor public workout equipment are now closed across Australia, leaving many people unsure how to keep up their fitness goals.
As the lockdown could potentially last quite some time, it is important to find a solution for the benefit of your health and mental wellbeing. Exercising for at least one hour, once a week is proven to reduce depression, so it's important to include movement in your new routine.
Some gyms and classes have moved their PT services online, but they can still be costly. Luckily, keeping your body moving doesn't have to cost you a cent! Consider pausing your membership and bringing the gym home, reaping the benefits of exercise while being cost effective.
If you are creating a home gym, you may find many stores have sold out of the essentials, but that doesn't mean you can't exercise or workout. Killer cardio and resistance training sessions simply require a little free space, the right apps and some creative thinking.
Stream free classes
You have probably seen on your social feeds that many gyms and studios are advertising their exercise classes online for free. From six-week free trials for some apps, to one off sessions, there are numerous streaming platforms that will help you stay trim, without paying a cent.
Why not try:
Training like the stars with Chris Hemsworth's workout program, Centr. Now offering a 6-week free trial
Usually a Body Balance fanatic? Try Les Mills on Demand free Body Balance class!
For those who like variety, the Iconic Sport is hosting free workout videos on IGTV. Yoga, Tabata and Dance workouts, these 20 – 30-minute jam sessions will put a smile on your face and sweat on your brow
Resist buying the weights
You can get in a resistance workout by using many things lying around the house. Tins of soup, bottles of wine or even odd bricks can be used to add weights to your fitness routine.
If you are passionate about kettle bells swings and dead lifts, try using a large bag of rice, bag of potting mix, or even fill a bucket with stones from the garden.
Whatever you use from home, make sure you still practice proper lifting technique, and if you can, work out in front of a mirror to keep good form.
Get your heart rate up by using the stairs at home!
Increase your heart rate at home
You may not realise, but your home could be an untapped playground for working out. If you live in an apartment, or complex, you most likely have stairs, or even a garden ledge that can be the perfect tool for a workout.
For some heart raising stair workouts try the following:
Run up a flight of stairs as fast as you can then slowly jog down. Repeat 10 – 15 times
Try stair taps. 30 second on, 30 seconds off, repeat 3 times
Use your garden ledge or stairs to do tricep dips, push ups and lunges.
Just like you would at the gym, make sure you take a sweat towel with you, and be sure to wipe down any railings, or surfaces you may use while using your home facilities.
If the outdoors isn't for you, try putting on your favourite tunes and having a good boogie to get your cardio workout in for the day.
Many families are choosing to learn a short TikTok dance as a way to get the family together, get their bodies moving and bring some joy into the day. Not only does it brighten your day and help relieve anxiety, sharing your moves can brighten the day of your friends and family.
Whether you learn something choregraphed, or simply dance to the beat of your own drum in private, now is a great time to get moving!
Clean away those calories
While it may not be spring, getting organised and cleaning areas of your home is a great way to get active while at home, plus you can potentially burn up to 200 calories for every hour of cleaning you do.
Giving the oven a deep clean, scrubbing the grout in the bathroom or finally sorting out the junk in your spare room, will not only keep you active but will also be great for your mental health, giving you extra space and a feeling of accomplishment.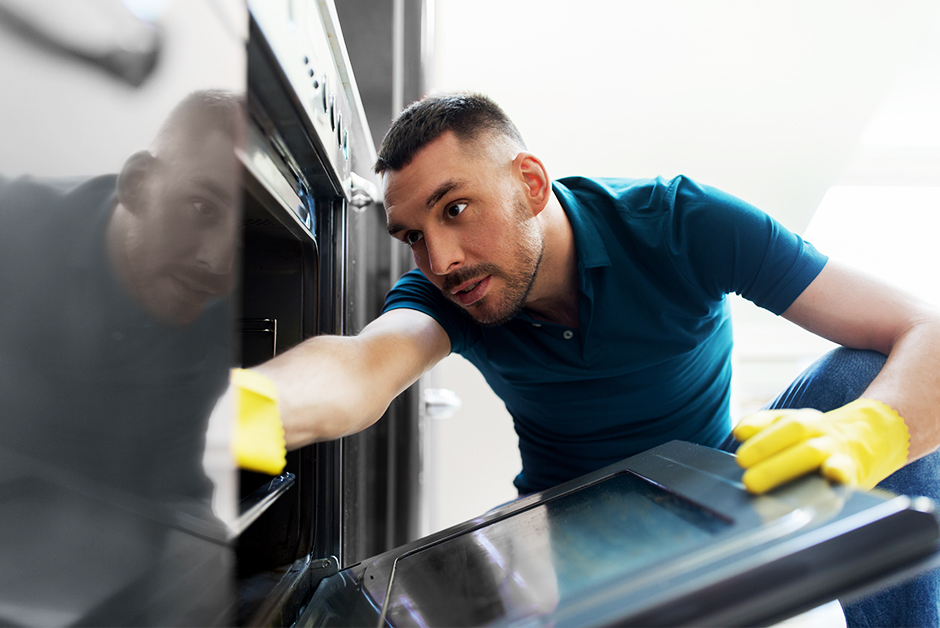 Do an exercise financial audit
While you are capitalising on all these free ways to exercise, make sure you consider saving the money you usually would spend. While some people are choosing to continue paying their memberships to support small businesses in hard times, if money is tight, make sure you call your gym, or studio to ensure all your memberships are paused.
You can even put the amount you usually would spend into a separate account and start saving.
Regardless of what you do during this time, make sure you keep active, stay connected to loved ones and always wash your hands!
The opinions expressed in this article are the opinions of the author(s) and not necessarily those of Resimac.
Back to top